For viewing demos on iPhone and iPad devices, click here.

Everyone has something special to remember.
Now there is a better way!
(turn on speakers; scroll down to view more demos)
How can FORGET help?
Example 1
Without getting into a long, theoretical explanation of the psychology of memory association1 and recognition2, consider one simple example. It's often difficult to remember a license plate number – for example, 5BRP11.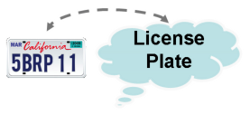 Not so if you use FORGET to associate 5BRP11 with the term license plate. Now, when you ask for license plate, you can easily recognize 5BRP11 as the license plate number. View the demo 1 below.
"Your Memory: How It Works and How to Improve It," By Kenneth L. Higbee:
1Association: "THAT REMINDs ME"

2Recognition
Demo 1 (turn on speakers)

Finally, you have a choice. Which would you rather remember?
Marie Joubert or best friend's mom?
Dr. Shenasa or heart doctor
psyllium seed or constipation remedies?
clopidogrel bisulfate or chest pain drug?
Ghibli Studio or Japanese Disney?
T-cell lymphotropic virus type III or AIDS virus?
3/17/2005 or Johnny's birthday?
Monterey Lovers Point Inn or ocean view bargain?
La Couronne Cafe or affordable French Restaurant?
Example 2
Let's consider the previous license plate example in greater depth. What if you have more than one car?
With FORGET, it's easy to manage even ten cars. Let's say you have a Ford with license plate 5BRP11 and a Honda with license plate 8DJX22. Just associate:
license plate, 5BRP11, and Ford in one group, and
license plate, Honda, and 8DJX22 in another.
The sequence of the keywords is not important. For details, view the demos 2a and 2b below.
Demo 2a (turn on speakers)


Demo 2b (turn on speakers)

Example 3
If desired, you can attach a brief, encrypted note to an association. View the demo 3 below.
Demo 3 (turn on speakers)

Share Your Stories
Do you have a real life example how FORGET's innovative technology works for you? How about:
login and password information that never stops growing
account numbers and user IDs that looks like Morse code
medical terms and drug names that sounds like Greek
historical names and events that you need to study to pass an exam
technical jargon created by geeks from other planets
names of special people that would be embarrassing if you forgot
favorite restaurants names that disappear from memory when you are hungry
famous quotes or references that you need to defend critical points
favorite books too numerous to remember and recommend
important points and highlights that escape you when you need to give a speech
Whatever your stories are, we'd love to hear from you!
Free! Why Wait?
FORGET's patented technology allows even the most scatter-brained people to recall information quickly and easily using their iPhone. Let your iPhone jog your memory when you forget.
FORGET is free! Take action today and start impressing yourself and others with your sharpened "iPhone memory".